Support for Students
This is a callout to our school community to remind everyone that there is support out there if you are experiencing a personal crisis, you are concerned for your child's safety and emotional wellbeing, or your family is experiencing a tough patch with expectations, communication, differing parenting styles, clashing personalities, sadness, distress, sleeplessness, or uncertainty around how to empower you child in their time of need.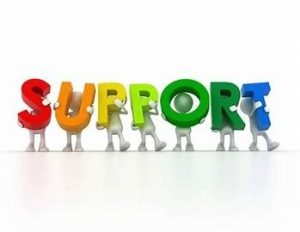 One Free Online support service, Kids Helpline, has had a lot of experience in supporting kids/teens and families. Despite the name Kids Helpline, this support service has resources for all the family such as parent information on topics that your child or family may be experiencing, 24/7 online confidential chat availability for ages 5–24, and advice for further support or programs.
Asking for help, no matter how big or small the issue might be, is often hard to do. Some people see it as a negative thing but that is simply not the case!
Asking for help can be challenging whether you are an adult or a child. Knowing that you are in need of help can be hard to identify or admit because we are often taught to be self-reliant and independent.
Asking for help can feel uncomfortable and some people describe it as having to 'swallow their pride'. It takes courage to reach out and say that you are not managing, you are unsure about something, or you just need a shoulder to cry on.
Teaching young people to ask for help is a really important skill they will need to be successful in life. How we go about asking for help and whether or not we are open to help sends powerful messages to the young people in our lives.
https://kidshelpline.com.au/parents/issues/empowering-young-people-ask-help
Here are a few more free external services available to our community. They can be contacted by phone, email and sometimes text. There are many options available depending on how you prefer to communicate. See below some of the many amazing services that are available for some friendly guidance.
Beyond Blue works to increase community awareness of depression, anxiety and related substance misuse disorders. Beyond Blue offers counselling services and immediate support and services related to mental health. The website has an extensive collection of downloadable resources. Beyond Blue's information line can refer you to relevant services. 1300 224 636.
This website provides free, reliable, up-to-date and independent information to help your family grow and thrive together. It offers free parenting advice using podcasts, videos and apps backed up by Australian experts.
The Black Dog Institute raises awareness about anxiety, PTSD, depression and bipolar disorder. It works to improve diagnosis, treatment and community understanding of these conditions. The website offers guidance and support to all ages.
www.blackdoginstitute.org.au
This initiative has been developed to support the mental health and emotional wellbeing of infants, children and families by offering practical information for families and practitioners. It also has links to other mental health services for adults and children, and interesting podcasts which provide useful strategies you can use to support your child.
This website provides access to trusted, relevant mental health care services, online programs and resources. Whether you want to improve your overall sense of wellbeing or need help with something that is concerning you, Head to Health can help you find the support that most suits your needs.
Headspace is the National Youth Mental Health Foundation. It has centres throughout Australia providing support, information and advice to young people aged 12–25 years or those supporting young people through a crisis or mental health issues.
Our closest drop in Headspace is in Narre Warren.

SANE Australia runs education and other programs to improve the lives of people living with mental illness, their families and friends. The website has information on a range of mental health topics. Support is available through online chat or by calling the helpline – 1800 18 SANE (7263). There are also discussion forums where you can connect with others in a safe, anonymous environment.
Mental Health support and Counselling
Individual FREE counselling for ages 13–25. Parent support sessions and parent support training.
Call 9792 7279 or Text 0417 347 909 with your name and number.
Mandy Barr
Counsellor