From the Head of Junior School
We have enjoyed three wonderful assemblies over the past fortnight. We were entertained by 6's portrayal of The Lion King and the audience was captivated by the quality of the students' singing, dancing and acting skills. I thought we could have all been at the Regent Theatre in Melbourne! I am sure it was a little bittersweet for 6S to perform their final Junior School assembly although they were very excited to perform a couple of their songs for our Foundation Transition session. Well done to Miss Sakeson and your wonderful class.
The next class to host assembly was 5L after a long postponement. The performance was well and truly worth the wait. Their assembly was based around some of our most well-known fairy tales. The twist to their fairy tales was that the class had devised two alternative endings and every student and teacher in the audience was able to vote for the ending they preferred by casting a vote with a little flag. The interactive audience participation was certainly enjoyed by all. Bravo Mrs Levett and your talented students!
Foundation K's assembly was based around Rod Campbell's treasured picture story book, Dear Zoo. The students performed beautifully and it was hard to believe that they hadn't even been at school for one whole year! The presentation of their year at school was touching and their morning song and counting to 100 song were both highlights. The final dance number was a joy to watch. You did yourselves proud, Foundation K. Congratulations to you and Mrs Brown!
Last week, Vrinda from Year 6 represented Casey Grammar at the State SSV Athletic Carnival in long jump. She came 4th overall with a jump of 4.33m. It was a PB for her and she only missed out on a podium finish by 2cm. We are so proud of her! Well done Vrinda!
On 1 November, we welcomed 75 students to CGS at our 2024 Foundation Transition session. The students all enjoyed watching 6S's encore performance of The Lion King and were then able to visit our 2023 Foundation classrooms. It was a very positive experience, and we look forward to welcoming them back again on 15 November for their final Foundation Transition session. Sincere thanks to Ms Hodgkiss, Mrs Laidlaw, Miss Stephenson, Miss Nichols, Mrs Woolcock, Mrs Humphrey, Mrs Saleeba, Mrs Barnes and Mrs Torcasio for all their help running our successful Foundation Transition.
Our inaugural Years 3–6 House Talent Show took place recently in the PAC. The event consisted of three categories: Instrumental, Vocal and Dance. Each House selected two acts for each category. Every act was of such a high quality and it was difficult for Mr Bell, Mrs Thompson and me to select a winner from each category. After much deliberation, the following students were announced as the winners:-
Instrumental – Vrinda – Piano (Booth)
Vocal – Ricky – (Leaver)
Dance – Ishkhwab (Reid)
Each act was awarded House Points and I would like to congratulate Booth House for being the first winners of the Talent Show. We definitely plan to make it an annual event in our House competitions.
Wishing all our CGS community members a relaxing weekend.
Melissa Roberton
Head of Junior School
State Athletics Championships

On Wednesday, 1 November, Vrinda S (Y6) competed at the State Athletics Championships at Lakeside Sports Stadium in Albert Park in the Long Jump event. Simply making this level is an outstanding achievement. Vrinda finished 4th overall at state level with a jump of 4.33 metres, which was a personal best, and missing out on a podium finish by only 2cm. Congratulations to Vrinda on this incredible achievement.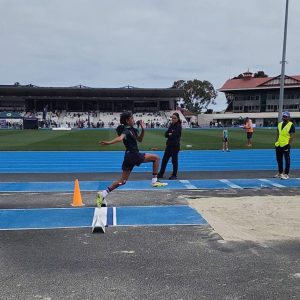 Jeff Batey
Junior School P.E. Teacher
ICAS Competition
Casey Grammar School entered many students into this year's International Competition and Assessments for Schools (ICAS). ICAS recognises students for academic achievement in English, digital technologies, mathematics and science amongst other subject areas. We were delighted to present several students who achieved Distinction awards in this year's ICAS program. Congratulations to the following students:
Vanshi G 2H English
Ethan D 3N English
Stanley Z 4H English
Dulain J 3B Digital Technologies
Angelo R 2H Mathematics
Dihein F 6B Mathematics
Jacob M 6B Mathematics
Saahib M 4H Science
Dihein F 6B Science
Additionally, we also had several students with Participation, Merit and Credit awards. Well done to all the students for their hard work.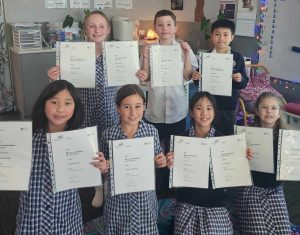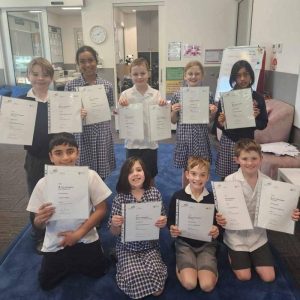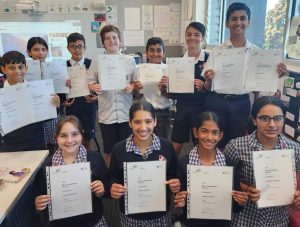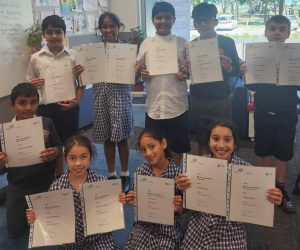 Miss Sarah Nolan and Mrs Rachel Harrison

My Place Competition
Once again, the students at Casey Grammar excitedly participated in the National My Place Writing Competition. While the results of the National competition are yet to be announced, we celebrated the achievements of our writers during a Junior School assembly. A book prize was given to one writer from each class from Years 1–6. Congratulations to the following students:
Jodie L 1B
Sidakpreet D 1H
Raeghan C 1G
Savindu G 2S
Navroz S 2D
Angelo R 2H
Lachlan P 3N
Isabelle V 3S
Dulain J 3B
Sascha L 4B
Reet K 4H
Lachlan D 4L
Jessica B 5K
Matilda L 5L
Lynette S 5R
Malay M 6S
Chanel K 6B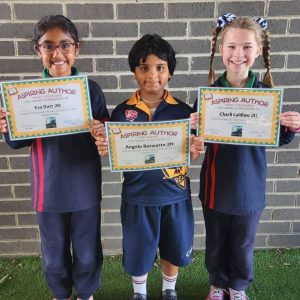 Some additional writers from each class were acknowledged for their efforts with a certificate. Well done to those students. Students across the school showed excellence as creative writers, using this year's theme of 'Imagination and Play' to take us on many adventures across various times and places. Please enjoy a snapshot of one of our Year 6 writer's, Chanel:

Miss Sarah Nolan and Mrs Rachel Harrison
House Talent Show
This week Casey Grammar School hosted the inaugural House Talent Show for the Years 3 to 6 students. It was a tremendous success for all involved. The event consisted of three categories including Instrumental, Vocal and Dance. The performers certainly showcased their talents in a variety of different styles and costumes. Students captivated the audience with their acts, and it was a very difficult job for the judges! Our School Captains, Namish and Ameek, compèred the event, whilst the ICT Captains, Agam and Jacob, operated the slides and music for the acts. It was an exciting event, with students sitting with their House members and there was even a segment for each House to perform their chant. The winners for each category were:
Instrumental – Vrinda S – Piano (Booth)
Vocal – Ricky L – (Leaver)
Dance – Ishkhwab S (Reid)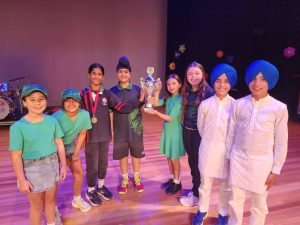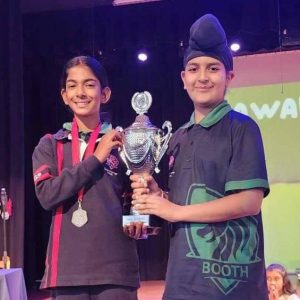 They received a medal for their outstanding performances. Finally, the drum rolled for the overall House winner. After a nail-biting tally, Booth House received the highest number of points and was awarded a trophy. Vrinda and Sarbjot (Captains) happily accepted the cup on behalf of the Booth students.

The afternoon was filled with fun and excitement. A big thank you to our judges Mrs Roberton, Mr Bell and Mrs Thompson. Thank you to the parents of the performers who came to watch their child — it would have been a very proud moment!
Miss Sarah Nolan, Mrs Bronwyn Kyne, Mrs Maria Ramos-Chan and Miss Bridgette Reale
Heads of House Junior School