Simultaneous Storytime 2023
Simultaneous Storytime provides an opportunity for millions of children across Australia and New Zealand to read the same story at the same time. It is run by the Australian Library and Information Association (ALIA) every year. A book that is written and illustrated by an Australian is chosen. This year it took place on Wednesday 24 May and all our students from Foundation to Grade 6 were able to participate in the story reading and some activities related to the book. The Speedy Sloth, written by Rebecca Young and illustrated by Heath McKenzie, was the lucky text for 2023. This event is in its 23rd year which aims to promote the value of reading and literacy in a fun, colourful, inclusive way. Although there is a large age range enjoying the book, each year level was able to look at it in a different way and extract meaning and morals beyond the surface level, while enjoying the storyline of a sloth competing in a running race with many other animals, including a meerkat, armadillo and even a cheetah.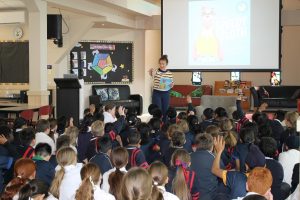 Communal reading with other classes enabled students to have a guest reader that they might not usually hear from, as well as unpacking part of the story with students from other classes to hear their ideas. The library would like to thank Fiona Williams, Mellissa Roberton and Vanessa Hodgkiss for reading to the cohorts of students. They all thoroughly enjoyed it and can't wait to see which text is chosen next year.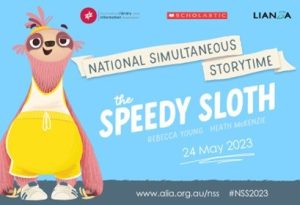 Diana Thompson

Head of Joan Reid Resource Centre