From the Head of Junior School
It was a pleasure to attend our Senior School musical, The Little Mermaid recently. Huge congratulations are extended to the entire cast and crew and sincere thanks to our incredible Performing Arts team. The show was simply amazing. It was fabulous to see so many of our students who have attended CGS in the Junior School, many since Prep, shining on the big stage, including Kirra, Matilda, Nicholas, Ruby, Rayma, Ebony, Justin and many of the ensemble. A shout out also to our current Year 6 students who were fabulous too. Bravo on a job very well done!
Our school acknowledged Reconciliation Week last week. This involved the whole Junior School attending a special ceremony on the oval. Thank you to Mark, a traditional owner of Bunurong Country, for visiting CGS and leading the Welcome to Country and our first ever Smoking Ceremony.
Last week, the following eight students competed at Divisional Cross Country; Erlyn, Jake, Kobi, Zara, Ryan, Snaver, Saahib and Isabella. Huge congratulations to them all and best of luck to Kobi, Zara, Snaver and Saahib who have all qualified for Regional Cross Country.
We had a fabulous start to last Thursday when our talented students of 2D hosted our assembly. Not only did their costumes look amazing but they performed the play, The Koala Who Could incredibly well. The audience all learnt that if you step outside your comfort zone and try new things, you might just surprise yourself! Thanks for the touching Powerpoint presentation of many wonderful 2D experiences they have had this year and also for the wonderful dance that concluded their assembly. Well done Mrs Duell and 2D.
Our students were excited when Smart Spelling's Miss Michelle surprised them with a visit to our Junior School classrooms. Our students watch her teach spelling on screen regularly, and to see her in person had many of our students quite awestruck. Sincere thanks to Michelle Hutchison for generously giving of her time to visit CGS.
Yesterday, we were able to finally run our much-anticipated Junior School Athletics Carnival at Casey Fields after having to postpone earlier in the term. Our students performed incredibly well and supported their House mates admirably. Congratulations to Booth House for winning the Carnival and taking home the House Cup.
Melissa Roberton
Head of Junior School
Year 5 Wildlife Xposures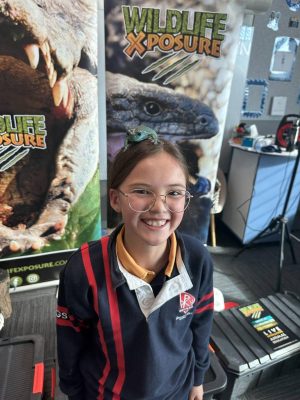 This term, the Year 5 students have been learning about how animals survive and thrive in their environments. We are exploring the many surprising structural, behavioural and physiological adaptations that animals have, such as how they gather or hunt food, how and when they sleep and what they do to evade predators.
We have also been investigating how humans have affected these animals, their habitats and their wider ecosystems, and the many ways we can help protect these animals. For their project this term, each student has chosen an animal to research and is working towards publishing a non-fiction book all about their animal.
To support our understanding about animal adaptations, we were lucky to have Brandon from Wildlife Xposures come into our classrooms this week to showcase and explain the many amazing adaptations that our Australian native animals have to protect themselves. For example, we were so surprised to learn that the endangered squirrel glider can glide over 80 metres to get from one tree branch to another to avoid having to go on the ground where it could be caught by predators.
Many students were also shocked to learn that it takes over 200 years for a tree hollow to form which provides a safe habitat for these creatures. Students thoroughly enjoyed being able to see these creatures up close and to touch and hold them and were surprised by many of the different textures. It was a fantastic experience and a joy to see the students appreciate the wonderful animals we have in Australia.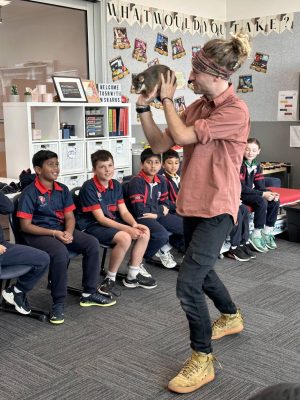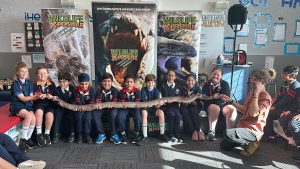 Vanessa Khvorostin

Year 5 Teacher
Careers Day

It was wonderful to see a variety of costumes on Careers Day. I asked the Year 6 Trist students what they aspire to be when they are older and why. Here are their interesting responses:
"I would like to be a neuroscientist (someone who studies brains) or a psychiatrist (a therapist)." Chanel 6B
"I want to be a tradie engineer and own a business about it and make cool things. I also want to help people from different countries." Daniel 6S
"I want to work at McDonalds because I can get a discount whenever I buy Maccas :)" Mia 6S
"I want to be a calibration engineer and an environment tester because that was my dad's job. I am also interested in the way engines work and are made." Jacob 6B
"I would like to be an architect who designs/oversees buildings before being made, because design is interesting when making something people will enter and live or work in." Alanna 6B
"I would like to be an Olympic swimmer because I love to compete, and it would mean so much to me if I got through. I also would like to be a swimming official because I would love to help kids get better at swimming and drive them in the right direction with their swimming." Bella 6S
"I would like to be a scientist because the idea of making a scientific breakthrough really gets me pumped up and because I will be able to help people." Agam 6S
"I want to be a videogame designer because I love to code and I am always being creative. I also am very interested in making a game that everyone can play, for example Roblox. These types of games interest me and I would love to make my own in the future." Alara 6S
The future is certainly bright!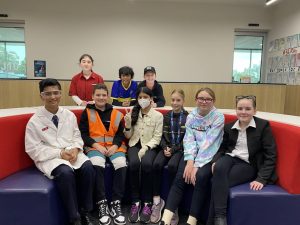 Miss Reale
Head of Trist House Jnr School
Cross Country Junior School
Last week, Casey Grammar was represented by 48 students from Years 3–6 at the District Cross Country event held at Casey Fields, after qualifying during our House Cross Country event in Term 1. The students did an exceptional job, competing against students from a number of other schools in our district. Well done to all those who participated and a special congratulations to those who finished in the top 10 and made it through to the Divisional event.
DISTRICT RESULTS
Kobi M: 1st – 12/13 Boys
Zara M: 1st – 9/10 Girls
Isabella S: 3rd – 12/13 Girls
Snaver M: 3rd – 9/10 Boys
Erlyn S: 4th – 9/10 Girls
Jake D: 5th – 12/13 Boys
Ryan C: 7th – 11 Boys
Saahib M: 7th – 9/10 Boys
These eight students went on to compete at Divisional Cross Country this week in Pakenham. They all ran exceptionally well, and it was great to see everyone staying around to support one another in their respective races. Huge congratulations to the following four students who finished in the top 10 and will now compete at Regional Cross Country in Hastings on 14 June.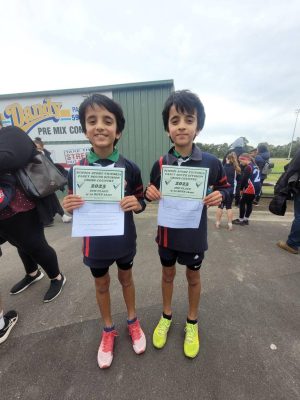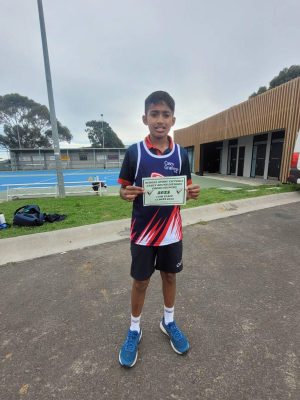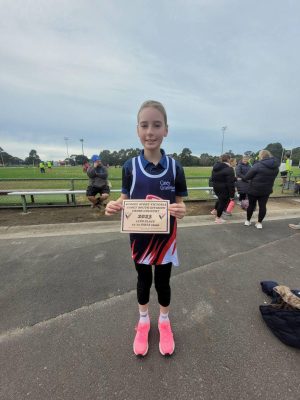 DIVISIONAL RESULTS

Zara M: 2nd – 9/10 Girls
Snaver M: 3rd – 9/10 Boys
Kobi M: 5th – 12/13 Boys
Saahib M: 8th – 9/10 Boys
Jeff Batey
Junior School P.E Teacher