Class Chapels are back!
We were delighted to have our Year 2s commence their Class Chapels. It was wonderful to see the students singing and dancing as well as leading us in prayer and our Bible Reading based on our theme of the Fruit of the Holy Spirit. A highlight was a small video of the students reflecting on how they are living out the Fruit of the Holy Spirit in their own lives. It's a centering reflection activity to pause and consider where we see the 'fruit' of love, joy, peace, faithfulness, gentleness, self-control, patience, kindness and goodness. Particular thanks to all the students involved as well as Mrs Grant who has been preparing the Year 2s in their Religious Education classes.
Families of students in Years 1 and 2 have been sent letters notifying them of when the Class Chapel services are. Families (including younger siblings) and special friends are welcome to attend to share in this time together.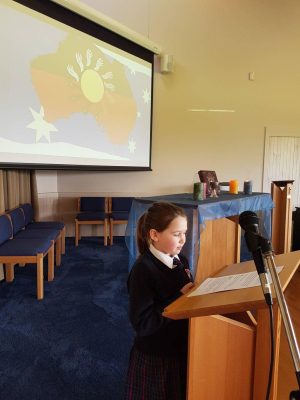 Reconciliation Week 2023
It was a privilege to participate in a range of different activities across the school to mark Reconciliation Week. Each year as a school community, this week evolves a little more and this year we had our first Junior School Welcome to Country and Smoking Ceremony. Watching the whole Junior School gathered together to hear from Mark (Bunurong Land Council) lead us was a very special experience. We were also delighted to have Wiradjuri man, Adam and Palawa woman Gabrielle as special guests as well as Kayla. It was moving to see our Wiradjuri students Eli and CJ both involved in the Smoking Ceremony, with their peers.

There were many other activities throughout the week, including bracelet making, cooking with a native ingredient, rock artwork and discussions on The Voice referendum, our Year 4 choir learning From Little Things, Big Things Grow as well as many other rich learning experiences.
In the lead up to Reconciliation Week, we also held our first National Sorry Day flag raising ceremony. This was an historic opportunity for us as a school to mark this important day to remember the Stolen Generations. Whilst there, one of the CGS parents, proud Wiradjuri man Adam shared powerfully about the importance of looking forward, rather than back. As we consider Reconciliation Week, this was a moving reminder.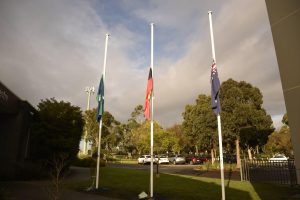 To conclude, here is the Benediction from our Welcome to Country.
May we leave today understanding that Reconciliation isn't one big step
But lots of little steps
May we understand that you reconciled yourself with us
That we too might be reconcilers
May we remember that from little things, big things grow
May you grow our hearts
To be more compassionate and understanding about the past
To be loving and kind in the future
May your peace fill each of our hearts
In the name of God the Father, Jesus the Son and the Holy Spirit
Amen
Every blessing in the week ahead
Monique Riviere-Pendle
Chaplain