Careers Expo Inspires with Choice and Inside Information
Our VCE students recently had the opportunity to attend the South East Careers/Try a Trade Expo at the Cranbourne Racecourse. The event enabled CGS VCE students to meet employers and tertiary providers and receive general career advice. The goal? Supporting our students to make informed decisions regarding their future career pathways.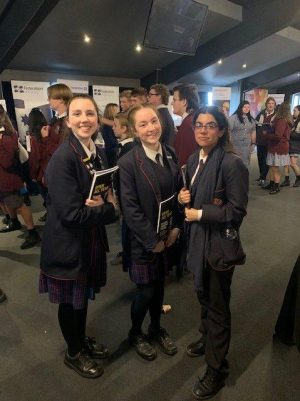 A few students have shared their experiences below. Sincere thanks to Spoorthy Bhat, Jasmine Casey, Layla Hargreaves and Jackson Ternel.    
"Deciding on a career that you are going to dedicate your life for, is a very tough decision to make and can be overwhelming for many students. As a Year 12 who is going to have to make this decision and leave the safety bubble of high school, I believe the only way to make proper decisions is to become educated on the many opportunities and options available out there. The South East Careers Expo/Try a Trade was an absolutely amazing experience, because it did just that. It presented information on numerous different future occupations and allowed students to experience different types of trades. It allowed them to see where their passions lie and how they could turn this passion into a lifestyle, inspired by the individuals who did just that. This expo was a truly rewarding experience and the various souvenirs and freebies given were the cherry on top!" —Spoorthy Bhat, Year 12    
"We were recently fortunate enough to go to the South East Careers Expo. At this excursion, we were given the ability to talk to people from many different universities and TAFEs. Everyone there seemed to have a great understanding of what they were talking about, even when discussing courses that they were not a part of. They were also super friendly, and the speakers were even open to giving out 'gifts' from their respective schools ranging from food, pens and even basketballs (something that most of us gladly took advantage of). This was even beneficial to people like me who are still not sure of what we want to do with our futures, as we were able to learn all of the different courses offered at many different universities. They even showed us ways to get into courses if you are unable to obtain the ATAR required. Going into the excursion, I did not expect it to be very helpful, however I was gladly proven wrong, and I would highly recommend that Casey Grammar continue to do this." —Jackson Ternel, Year 11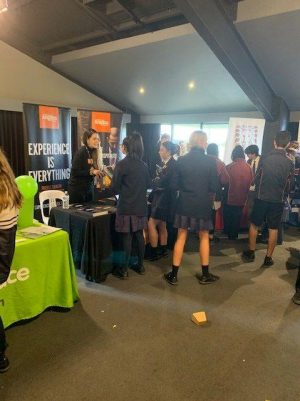 "As a Year 11 student, I went to the Expo in the morning with the rest of my year level, while the Year 12s went in the afternoon session. When we got to the expo, there were not many people to begin with, though it did quickly fill up with multiple students and teachers from  different schools. There was information and resources about the VCE, information about different universities, TAFE and training courses. They also had career and study advice from some of the universities, employment advice and opportunities, apprenticeship and traineeship advice, and international exchange and gap year programs. There was something for everyone who was interested in researching options. I was able to learn more about what university was going to be like, and what kind of courses are available to everyone. I learnt about what I might want to do for possible courses, and what universities might be the best for me. Overall, it was a great and informative day, and I am thankful that I was able to participate." —Jasmine Casey, Year 11    
"The South East Careers Expo/Try a Trade excursion was a helpful and fun experience to share with my peers. We participated in a variety of fun activities such as cupcake decorating, interactive VR experiences and getting to look at military and police vehicles. I enjoyed talking to a variety of universities about my possible future pathways and learning about the different courses they offer. We also got a lot of entertaining free things, including coffee cups, stationery, badges and even basketballs. I even got my blood pressure checked by one of the medical stalls as well as my blood oxygen levels. Overall, it was a rewarding excursion. I learned a lot about the many different career paths, and futures that are available." —Layla Hargreaves, Year 11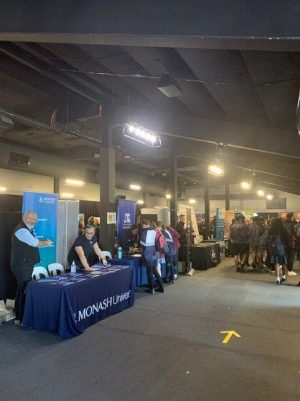 VTAC Dates 2021/22 (Year 12 students)
VTAC has released key VTAC application dates for 2021-2022. They are listed below. Please note that dates may be subject to change.   
Applications open for courses, SEAS, and scholarships 

Monday, 2 August 2021 

Timely course applications close 

Thursday, 30 September 2021 

 

SEAS and Scholarships applications close 

Friday, 8 October 2021 

 
Please note: Other dates, including offer round dates, are not yet available and will be published later in the year. 

The Benefits of Volunteering
The City of Casey Volunteer Matcher is a one-stop portal for volunteering in the Casey municipality.    
Volunteering is a great way to develop your employability skills and enhance the likelihood of securing a paid job. It can be very difficult to get your first part-time or casual job without experience.
Volunteering provides you the opportunity to engage in meaningful work experience, which you can use as evidence to demonstrate the skills you have, such as communicating with customers and working with others.    
Any questions? Please pop in to visit me (V13), email or contact via SEQTA.        

Ms Sarah Blythman 
Head of Careers and Student Pathways