Students Help to Prevent a Lifetime of Blindness
Although we were all disappointed that we couldn't have our Colour Run last week, we have been amazed by the response to our fundraising efforts. At the time of writing, we have raised almost $2,400 – an incredible achievement.  
The most exciting thing is that this money has the potential to make an incredible difference in the lives of individuals through CBM's incredible campaign for people at risk of River Blindness.  
For those unfamiliar with this terrible disease, it involves a parasite transmitted to humans, with the adult female producing larval worms that damage the person's eyes, even to the point of permanent blindness and impairment.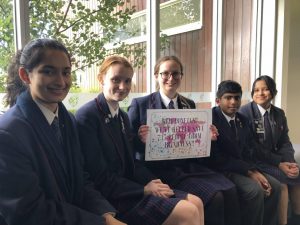 Almost all those infected (99 per cent) live in 31 African countries. However, the exciting thing is that until June, each dollar raised will be matched SEVEN TIMES over through the CBM Campaign.  
That means on our current figures, due to our work and the matching campaign, 735 individuals will receive the medication they need to prevent them from going blind. It is a wonderful testament to our students, that because of their work, and the generosity of their family and friends, so many people will have a brighter future.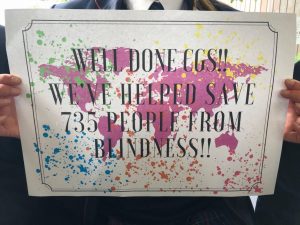 This is what we mean when we talk about small actions making a difference, as we live out our school value of compassion. Sincere thanks to everyone involved, particularly Mrs Schreuder, who spent so much time organising the event and Ellen Streat, our passionate Social Justice Captain.

We look forward to doing the Colour Run component later in the year.  
Salvation Army Service Opportunity 
Many in our community would be familiar with the work of the Salvation Army around Australia. The Cranbourne Salvation Army is our next-door neighbour, and is looking for volunteers to collect funds at shopping centers and Bunnings throughout May. The dates are below:  

Shopping on Clyde, Casey Central and Cranbourne Park, from Wednesday 26 May, to Sunday 30 May 
Thompson Parkway and Monahans Road Coles on the weekend of 29-30 May 
Bunnings on the weekends of 15, 16, 22, 23, 29 and 30 May
If you are interested in volunteering with your child, please contact Michael Wright (Michael.Wright@salvationarmy.org.au) to register your interest. This is not a School event, but the CGS community has a longstanding relationship with the Cranbourne Salvation Army, and we seek to support their work as we can.

No prior experience necessary!  

The Importance of Being a Good Samaritan 
Last week in the Senior School assembly I shared the parable of the Good Samaritan, a well-known story that Jesus told about a man who is beaten up as he travelled.

The ones you would expect to help did not, and finally a man whom no-one would have imagined would have stopped to provide assistance, did. It is the ultimate example of a story that demonstrates the true nature of some bystanders in comparison to the individual who provided assistance at personal cost to himself.

It is a reminder that sometimes what is right is not easy for us to do, and yet, it remains the right action or decision.    
Every blessing to you and your family.   
Monique Riviere-Pendle
Chaplain