A Safe and Positive Start to Term 2
I trust our entire CGS community including our students, families and staff enjoyed their Easter break. I hope everyone was able to appreciate the further lifting of COVID-19 restrictions and spend quality time with their loved ones.
We are in a most fortunate situation in April this year in contrast to April 2020.
Long may it last!
Welcoming our New Teachers and New Arrivals
It is my pleasure to welcome our new Junior School teachers, Miss Alanah Knight and Miss Lexie Weber, to CGS. Miss Knight is teaching Prep and has spent the first week of this term forging strong bonds and developing mutually respectful relationships with her students.

Miss Weber joined us this week in the newly created role of Tutor and she will be working with small groups of students across the Junior School in the areas of maths and writing.

After working as a replacement teacher previously at CGS, Mrs Lee Britton-Bird has returned to replace Mrs Virginia Duell as she enjoys some eagerly anticipated long service leave. Most of Mrs Duell's time will no doubt be filled with her new grandmotherly duties as her granddaughter, Isabella, arrived safely recently.

I'm also thrilled to inform you that Ms Bridgette Reale excitedly welcomed her son, Tanner, late last term and Ms Sam Griffin's daughter, Olive arrived in the holidays. That completes our staff trio of babies. All mums, dads, grandmothers, and babies are doing well and being showered with love at this special time of their lives.
Yoga Proves Popular with our Preps
I am happy to report that this term all Junior classes will attend two sessions of yoga with Miss Tamika Doyle. Sessions began last Thursday and were a huge success. It was incredible to see 25 Prep students all lying quietly and without making a move on their yoga mats during the warm down.

After the stresses of 2020, it is wonderful to be able to offer our students this wonderful wellbeing activity. Many thanks to Tamika for sharing her well-honed yoga teaching skills with our students.
Commemorating ANZAC Day and those who Served
Yesterday's ANZAC Service was a solemn and significant commemoration in which all veterans of war were honoured. I'd like to sincerely thank all those involved and make special mention to Mrs Riviere-Pendle for all her efforts in organising the Service and to Mr Brett Harrison, husband of our own Mrs Rachel Harrison.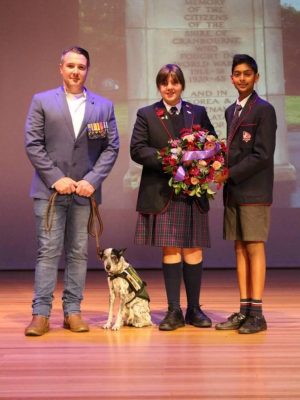 Mr Harrison, who served in the Australian Army as a cavalryman and armourer, talked to our students about his deployments to Iraq and Afghanistan and the importance of ANZAC Day to him.

As part of our ANZAC Day reflections, 2G made ANZAC biscuits. Students enjoyed helping with each step of the recipe, including measuring and mixing the ingredients. Once the biscuits were cooked, all the students enjoyed eating them.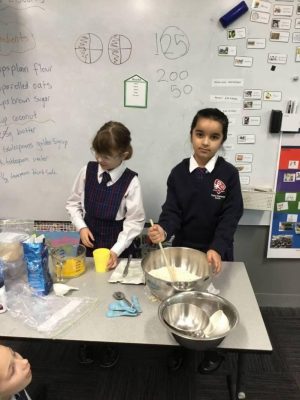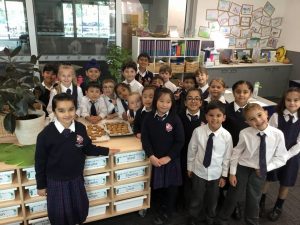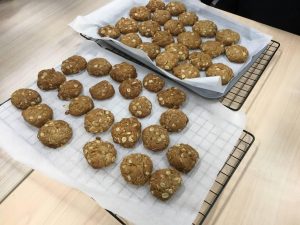 Upper Primary Centre Officially Opened
Today our Years 3-6 students, staff and special guests attended the official opening of our Upper Primary Centre. It was a wonderful event that celebrated our state-of-the-art facility.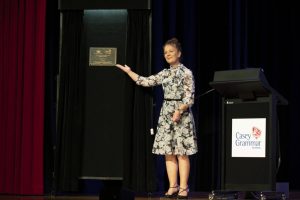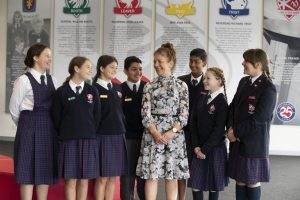 I would like to thank our confident and well-spoken students who spoke at the event and to all our musicians who entertained us. I'm sure our Upper Primary Centre will be a hub of collaborative and creative learning for our Year 3-6 students for many, many years to come.
Keep well and safe
Melissa Roberton

Head of Junior School
Ensemble Program is Music to our Ears
Now that the Instrumental Ensemble Program has been operating for a term, I am very proud to share our progress with you. Please click on this link. 

Some recounts of the students' experiences so far: 

"Once Mrs Kyne announced there would be an Ensemble Program with the trombone, I knew I had to do it. Once I got in that room and held the trombone for the first time, I was so excited. When I finished the exercises, I was ready for action! At first, I wasn't that good, but gradually as time flew by, I became way better than I ever was. I really enjoy playing in the ensemble and I hope if there is another Ensemble Program the Year 5-6 of 2022 enjoy it too." —Ashton (Year 6N) 

"The first time I was in the percussion room, I was a bit nervous because I have not been into a room with so many instruments before. But after taking lessons for a few weeks I didn't feel nervous anymore. I am being taught how to play different percussion instruments by Mr Hook." —Irushi (Year 5D) 

"The experience so far in the Instrumental Ensemble Program has been great! Before this wonderful experience, I hadn't played an instrument, so I didn't know if I would be able to catch up with the others, but I was wrong. In just a few weeks' work, I was already learning a few little songs. All I had to do was to bring my clarinet on Mondays and go to classes each Monday. Our lovely teacher Miss M is a great teacher and helps us whenever we need it. It is fun to learn new notes and play along with the other woodwind players. We have also learnt how to take care of my clarinet by taking it apart and cleaning it. I love playing the clarinet and practice every night." —Sehajleen (Year 6M) 

"I think the Ensemble Program is great. When I first joined ensemble, I thought I would do violin, but I tried other things like the saxophone and other instruments, but I really liked the saxophone. I was the only one doing saxophone when we first started and I was not good at all, but once I practiced, I was way better. So, I practiced and practiced until I could blow and play notes as well. It was so unique!" —Jeremy (Year 5R) 

Bronwyn Kyne 

Performing Arts Teacher  

Incredible House Spirit at Years 3-6 Cross Country
Well done to all Years 3-6 students who participated in the House Cross Country event last week. It was fantastic to see such incredible House spirit being radiated by all staff and students. The level of effort from all students was exceptional.

Congratulations to those students who will now represent Casey Grammar at the District Cross Country event in Term 2, and a big congratulations to Reid House, which won the event!

Thank-you to all staff for assisting with duties to ensure the event ran smoothly. Thank-you also to our Year 9 Sport Coaching students, Thomas Rowe, Millan Parolin, Reuben Weller and Nicholas Livingston for their help on the day.  

Jeff Batey 

Head of Junior School P.E and Sport