A Feeling of Belonging
I trust all our Junior School students and families made the most of our long weekend and were able to rest and recuperate after a busy start to the 2022 school year.
For some children, transitioning back to school after two years of disrupted schooling and recent teacher absences due to COVID has been challenging. At times, being part of a group and getting along within that group can be confronting and cause nervousness.
Thank you to all our CGS Junior School teachers who have spent time working closely with their students to build a sense of belonging, connection and fitting in since returning to school.
After relaxing our uniform standards due to a lack of stock and lockdown due to COIVD, it is now time to return to our usual high uniform standards.
Please note that teachers will give students warnings followed by infringement notices and phone calls home to parents if they are not dressed in the correct Casey Grammar uniform each day. Uniforms give students a sense of belonging and enhance pride in their school. We are proud of our students' appearance and I'm sure most of you would agree that we need to lift our uniform standards and demonstrate unity.
Well Done to Our Swimmers
Congratulations to our swimmers who all performed remarkably well and placed in their races at their recent Divisional meet.
Ameek placed 2nd in 10 Girls Butterfly, Isabella placed 1st in 11 Girls Butterfly and Alice placed 1st in 12/13 Girls Butterfly. Our Open Girls Medley Team of Nereesa, Alice, Emma and Isabella, also placed 1st! Best of luck to Isabella, Alice, Nereesa and Emma for the Regionals.
Space Domes and School Camps
Last week's Year 3 Space Dome incursion was terrific. Our students thoroughly enjoyed the opportunity to enter the Dome and get a sense of what it's like to visit space. Thanks to Mr Jenkin for organising this wonderful experience for our Year 3 students.
I am happy to report our Year 4 Camp began today—and to say our students were excited is an understatement! I'm sure they will have a fabulous time and will arrive home exhausted and full of stories that will last them a lifetime.
Camps are not possible without the selflessness of staff. Sincere thanks to Mr Bell, Ms Nolan, Miss Hore, Mrs Kyne, Mrs Torcasio, Mrs Willett and Mrs Saleeba for attending our Year 4 City Camp. I am looking forward to joining them tonight for dinner and the movie on the roof.
Stay safe and well.
Melissa Roberton
Head of Junior School
Success in the Pool
A small group of students from Years 5 and 6 participated in the Divisional Swimming competition on Wednesday, 9 March at Noble Park Aquatic Centre. This was after their stellar performance at the District event in the weeks prior.
The 12/13 year girls medley relay team finished in 1st place, and will progress to the Regional Swimming Carnival at Melbourne Sports and Aquatic Centre (MSAC) on Monday, 28 March. What an outstanding achievement! Several students also participated in individual events with excellent success.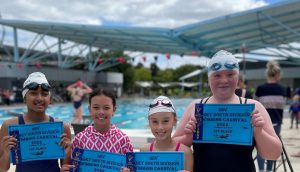 The results are:
1st Place: 12/13 Girls Medley Team: Nereesa W (Year 6), Emma V (Year 6), Alice W (Year 6), Isabella S (Year 5).
1st Place: Butterfly: Isabella S
1st Place:Butterfly: Alice W
2nd Place: Butterfly: Ameek B
Jeff Batey
Primary School P.E and Sport