So Many Options!
Students are often overwhelmed by the broad range of study options available to them after high school. Although having options is great, the different pathways can be quite confusing if you're not familiar with the terminology.
When meeting with students, I regularly use words like 'undergraduate' and 'postgraduate', 'majors' and 'minors' and 'apprenticeships' and 'traineeships' without a second thought. Although we explore options with students throughout their educational journey, particularly in Years 10 to VCE, I am increasingly conscious of the need to better define these options so students, parents and guardians understand them.
Over the next few weeks, I will share some useful tools and information to improve students' understanding of the world of work and the study options available to them when their time at CGS ends.
A good place to start is the Australian Qualifications Framework (AQF).
The AQF is the national policy for regulated qualifications in Australian education and training. It incorporates the qualifications from each education and training sector into a single comprehensive national qualifications framework.
AQF levels and their criteria indicate the relative complexity required to successfully achieve each level. AQF Level 1 is least complex while AQF Level 10 has the highest degree of complexity.
This structure allows people to transition through the levels to achieve qualifications. For example, it is possible for a student to complete a Certificate III qualification, which will then transition to a Certificate IV/Diploma/Advanced Diploma, which can then facilitate entry into a university degree.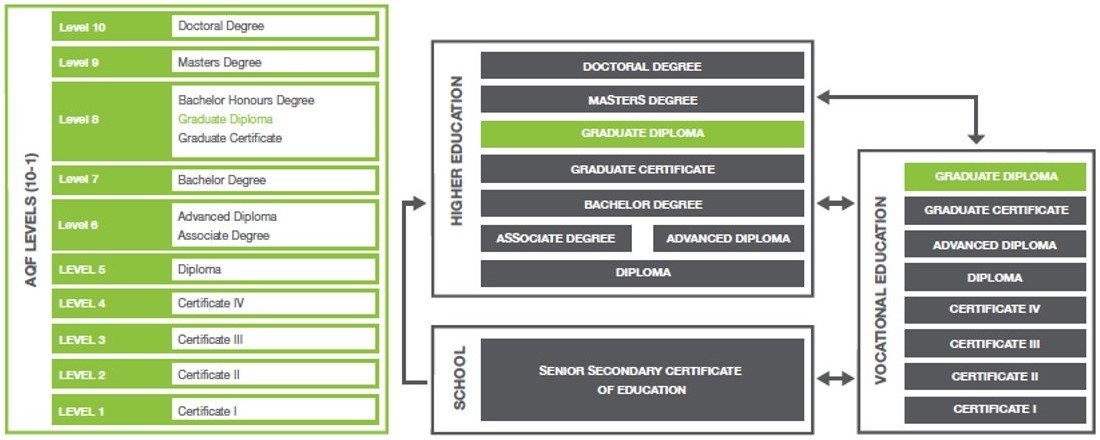 Myfuture Webinar for Students on the Autism Spectrum
On Tuesday, 29 March 2022, myfuture will present a webinar focusing on resources to assist students on the autism spectrum in transition planning to enhance their employability and potential after high school. The webinar will be facilitated by Associate Professor Marina Ciccarelli from Curtin University, and Cheryl Mangan from Autism CRC.
I will be attending this webinar and I encourage any interested parents, families and students to join me. To register, please click here.
Don't forget that myfuture is a wonderful resource for all students and their families. As well as webinars, it has resources to explore career pathways and tools to help with career decision-making.
Monash Information Evenings
Monash Information Evenings are back for 2022. Students and their parents or guardians can find out everything they need to know about studying at Monash, including study areas, international opportunities, scholarships, entry and pathway schemes and accommodation options.
See this link for further information and 2022 dates.
Careers and Pathways Week 2022
In Week 9 of Term 1, all Year 10 students will take part in Careers and Pathways Week.
The purpose of the week is for students to research future career pathways by visiting tertiary providers and to develop their enterprise skills ready for 2023 and beyond. The program complements the work our Year 10s are currently undertaking in the Work Skills subject and will support their subject selections.
It is an important program and all Year 10 students are required to participate. A Consent2Go invite has been sent to all students and their parents or guardians. Please ensure you respond to this ASAP.

In 2022, students will visit Monash University, Federation University and will participate in a 'taster' program at Chisholm Institute. It should be a great week and we are excited to offer our students this wonderful opportunity.
Sarah Blythman
Head of Careers and Student Pathways