Leadership Speeches
It was a pleasure to once again gather in the PAC last week to listen to our Year 5 students deliver their 2022 Leadership speeches. They certainly did themselves proud.
Positions will be announced at our Awards Celebration afternoon next Wednesday. All the best to all candidates and remember that, despite the results, you don't require a badge to be a good leader.
In With the New…
Last Thursday we welcomed our 75 new 2022 Prep students to their first transition session.
Next year, we will also welcome Vanessa Hodgkiss and Fiona Laidlaw to CGS who will be joined by Kylie Ingle to make up our Prep teaching team for 2022. It was great to have all three of them in attendance and it was wonderful to see the students interacting with their fellow classmates and enjoying the school experience.
We are eagerly awaiting our second transition session this Thursday from 4:00 pm until 5:00 pm.
Celebrating Year 6 Camp
After a very difficult 18 months, it was absolutely fabulous to have our Year 6 Camp go ahead last week. I thoroughly enjoyed my visit and was impressed with how many of our students tried activities that put them well and truly out of their comfort zone. The giant swing, flying fox and high wire activities all come to mind.
However, I must say that the most difficult activity must have been the Monster Challenge. This event saw our students completing obstacles in a freezing cold lake, going through huge mud pits and carrying heavy tyres along slippery terrain. To cap it off, once they finished the course, they had to go back and do it all again to try and improve their time.
The students were ably lead through the entire course twice by the wonderful Mr Newham and the incredible Mrs Kyne. I'm sure all our students, not to mention our teachers, would have slept well on Friday night!
Of course, the camp wouldn't have been possible without the generosity of our staff. Sincere thanks to Ms Mepstead, Mr Newham, Mrs Kyne, Mrs Badar, Mr Bell, Miss Dascoli and Mrs Nolan for everything they did to ensure the Camp went ahead with very little notice and for ensuring it was a huge success and no doubt a highlight for the students in their final year of Junior Schooling.
Please be reminded that we have our P-2 Sports Day tomorrow and our long-awaited Book Week Dress Up Day this Friday.
Melissa Roberton
Head of Junior School
Remembering Remembrance Day
To mark Remembrance Day, the Year 3 students once again met with former member of the defence forces, Brett Harrison.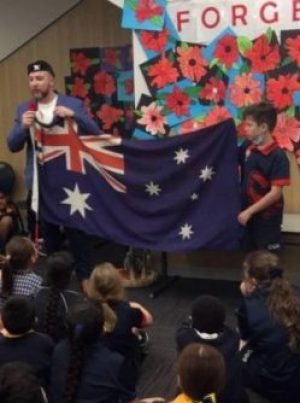 Mr Harrison spoke to the children about the significance of Remembrance Day and how the Australian Army members show their respects on this special day with an official catafalque party. The children were shown how to properly handle the Australian flag and how to fold it and raise it correctly on the flag pole.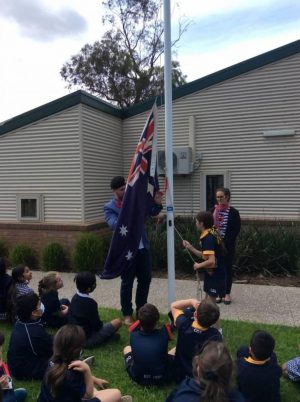 The children were all smiles as they learnt to salute and stand to attention. They asked many questions of our visiting veterans and enjoyed their experience once again.
Year 3 Teachers