Welcome to Term 3!
As the new term gets underway, here's a recap of what has been happening in our community during the past few weeks.
Celebrating NAIDOC Week
While we were on holidays, Australia celebrated NAIDOC Week. This national week acknowledges Aboriginal and Torres Strait Islander culture, history and achievements. This year's theme was 'Heal Country!' and was a reference to the responsibility we all share to care for the Country that we walk, work and live on.
A range of fantastic TV programs were screened, particularly on SBS and ABC iview that are still available if you would like to grow your own knowledge.
As part of the Staff Chapel Service, our Acknowledgment of Country included watching a very moving clip on the Uluru Statement from the Heart, created in 2017 by a range of First Nations representatives. This version, created eight months ago, involves the voices of leaders against a backdrop of various artworks.
You can watch it by clicking here.
Helping the Homeless
The term ended with the Junior School Comfy Clothes Day, which was an event to raise awareness of the issues of homelessness in our local community. Students rugged up in their comfortable clothes including, in some cases, matching oodies!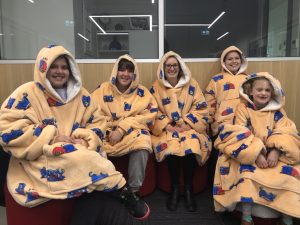 Reflecting on Refugee Week
To conclude the term, students from Years 6–12 and three staff members attended the Feast for Freedom. We are proud to be supporting the work of the Asylum Seeker Resource Centre and have donated $1,400 to their important work this year.
Here is a reflection on the Feast for Freedom from our Social Justice Captain, Ellen Streat.
'On the second last day of term, students from the Social Justice Group along with several primary students and teachers, came to the Feast for Freedom where we made dishes from Persia, Ethiopia and Papua New Guinea.
We partnered off, made the mains and sides and ate a buffet style meal together. My personal favourites were the pomegranate chicken and the jewelled rice which had pomegranates, pepitas and apricots mixed through it.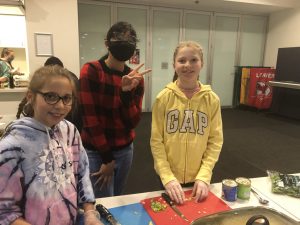 The recipes were given to us by the Asylum Seeker Resource Centre and are traditional recipes that refugees have shared. The money we raised during the event was donated to the Asylum Seeker Resource Centre.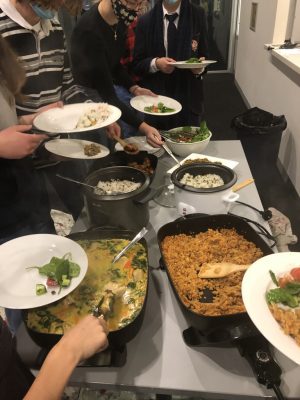 It was so nice to share a small but interesting part of these cultures and it made a great atmosphere for students to bond across multiple year levels. After dinner John, an Afghani refugee who works as a speaker with the Asylum Seeker Resource Centre, shared his story with us along with a short history lesson to give us context of why so many people find themselves fleeing their countries.'
Ellen Streat, Year 12
Thinking of all of our families as we have experienced another lockdown. May you sense God's presence in unexpected ways in these challenging times. Every blessing to you and your families as we begin a new term.
Monique Riviere-Pendle
Chaplain