Making up for Missed Time
What an exciting final two weeks we have had in our Junior School!!
It certainly didn't make up for all our missed opportunities due to COVID, but it did put smiles on the faces of our students and our teachers, too. We were all so happy to organise events for our Junior School students recently.
Our Early Years students certainly enjoyed the races and fun sporting events that Mr Batey arranged for them for our Prep to Year 2 Sports Day.
It was fabulous to welcome our 75 Prep students for 2022 to our school for another afternoon of fun! Thanks to Mrs Bouman for her organisation and to our 2022 Prep teachers, Mrs Hodgkiss, Ms Ingle and Mrs Laidlaw.
Thank you to our students and parents for organising such wonderful costumes for our Book Week Dress Up Day. All Prep to Year 6 students proudly paraded across the stage and announced which book character they had dressed as. We could definitely spot many a Where's Wally, Elsa and Anna and many Harry Potter characters. Thanks go to Mr Dunkley for organising this event and our Book Week Incursions for all Prep to Year 6 students.
Our Years 3 to 6 Awards Celebration Assembly was a wonderful event. We acknowledged the academic, achievements of our students and their outstanding effort and endeavour, leadership, extra-curricular achievements and commitment to Casey Grammar. Congratulations to all our award recipients.
Our Remembering Annalise afternoon was an important moment. Despite the extremely sad circumstances, the gathering of Annalise's family, of her Year 4 classmates and their families and of our CGS staff was a fitting tribute to our cherished angel, Annalise. Sincere thanks to Mrs Riviere-Pendle for organising the event.
It was a pleasure to attend our Junior School Christmas Chapel and to see our students on our big stage celebrating the magical time that is Christmas. Thanks to Mrs Grant and Mrs Riviere-Pendle for organising the event and for ensuring our students understand the real significance of Christmas in addition to the joys of giving and receiving.
We were extremely thankful that parents and staff were able to gather for our Year 6 Graduation. The evening was a highlight for our 2021 Junior School graduates and they did themselves proud. Many thanks to Mr Newham and Ms Mepstead for all the effort they put in to making the evening a huge success.
We were very fortunate to sneak in some last-minute excursions for our students in Years 1 to 6.
Our Years 1-5 students enjoyed their visit to the movies and I hear the popcorn and choc tops were a highlight! Our Year 3s and 5s also enjoyed some barefoot bowling.
As for our Year 6 students, their Big Day Out was exactly that — a really big day out!! I have it on good authority that students and staff had an absolute ball at Gumbuya World. I am so grateful to our teachers for making the time in their extremely busy end-of-year schedule to organise these fabulous experiences for their students.
Our Prep students were treated to a Wildlife Animal incursion last week, which had them all fascinated. Thanks to Ms Waugh for organising this activity.
Another highlight of the last fortnight was our Year 3 to 6 Swimming Carnival. The waterslide was a firm favourite and students enjoyed the competitive swimming races.
I must say that we were surprised by many of our students' swimming ability. With no swimming lessons at school for the past two years and the cancellation of out of school hours swimming lessons due to COVID, we could really see the deficit in the swimming ability of many of our younger students.
Can I therefore please ask ALL parents to be vigilant with your children around water this summer? Thanks again to Mr Batey for organising this event with very little notice. I'm sure every student appreciated this fabulous opportunity.
The highlight of the last week of school is always our Junior School Teachers' Assembly and it certainly didn't disappoint this year. I can't thank enough our wonderful teachers for the effort they go to in dressing up and getting out of their comfort zone — all for the sake of their students. The applause is almost deafening as each class recognises their teacher. Of course, the whole thing wouldn't be possible without our wonderful Mr Bell who writes the fabulous script each year!! Thank you so much, Mr Bell!
Finally, we concluded with our 2022 Handover, which saw students meet their new teacher and classmates while visiting their classroom for next year. It was wonderful to hear our students squeals of joy as they met their new teacher and celebrated with their friends.
Please note that the class placement process is complex and has a particular focus on the placement of students to maximise their learning needs. It is important that your child's class placement and teacher are viewed in a really positive way.
So that's a wrap for 2021 —the good, bad and the ugly COVID! Here's to a relaxing, family orientated Christmas break for all and to 2022 being a year full of rich learning opportunities, new friendships, health, happiness and, dare I say it, no lockdowns.
Until students return on Monday, 31 January, please enjoy the break and stay safe and well.
Melissa Roberton
Head of Junior School
Year 6 Graduation
The year 6 children were very grateful to be able to celebrate their time at Primary School at the Year 6 Graduation Presentation on Thursday, 2 December. They were very fortunate to have their parents present to witness them receiving their certificate of graduation and were complimented on their refined presentation skills. After the formalities of the presentation they enjoyed a pizza dinner and a disco where they danced the night away. Congratulations to the Year 6 Class of 2021 and we wish you all the best in Secondary School.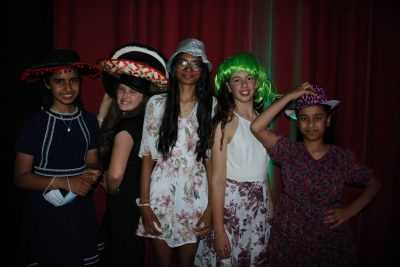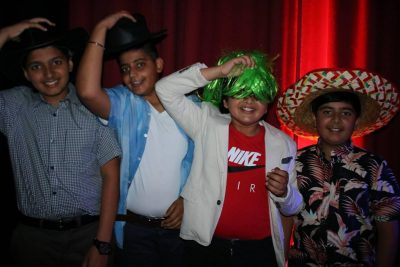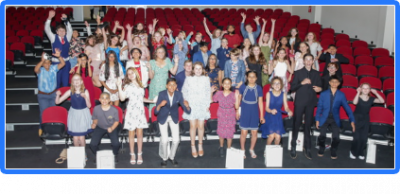 Amy Mepstead and Greg Newham
Joining the Circus
The Prep students have been working together to create their very own circus. To begin this process, they explored the many different types of circus performers, such as acrobats, animals, clowns and dancers.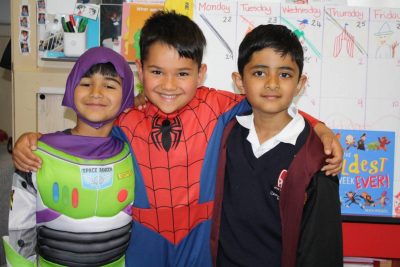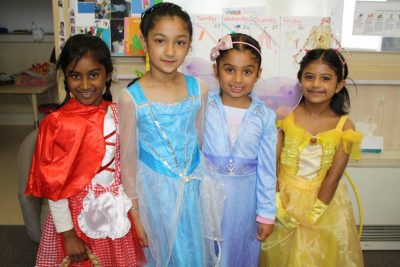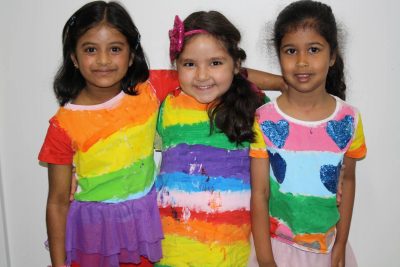 The students then created their own groups and worked together as a team to produce their own act to share with their buddies. Finally, they designed and painted their own costumes and the results were colourful and very entertaining!
Holly Waugh, Prep Teacher
Welcoming the new Preps
After some rescheduling of dates, we were delighted to welcome the new and existing Prep 2022 families into the Prep classrooms for two orientation visits.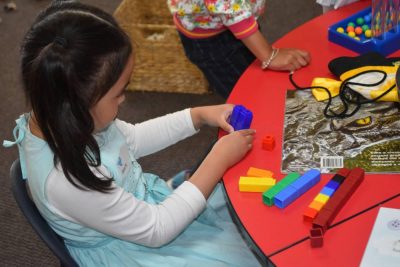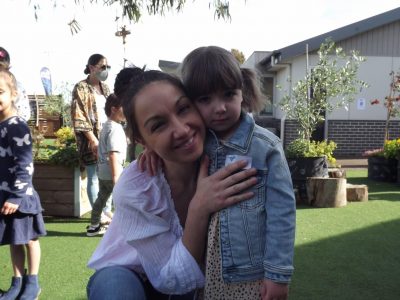 Charlotte Bouman
Head of Early Years
Tabloid Sports Carnival Fun
The weather was perfect for our Prep to Year 2 students who participated in their tabloid sports carnival on Wednesday, 24 November. There were plenty of activities and events involving running, throwing, relays, teamwork and lots of fun.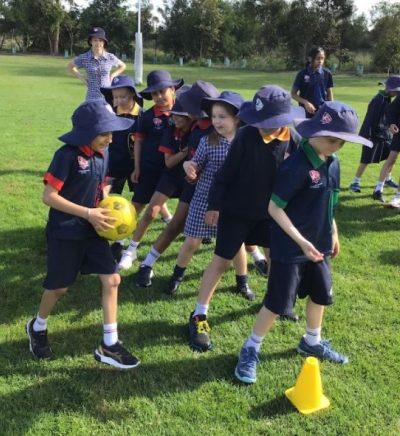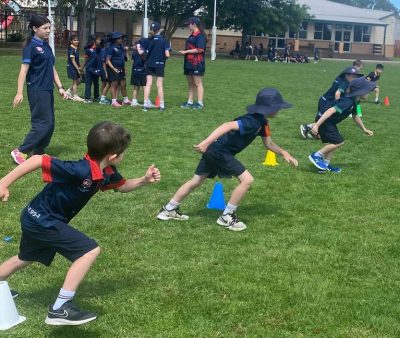 It was great to see the teachers and learning assistants getting involved too! The students were very enthusiastic and it was great to see so many children encouraging and cheering on their classmates throughout the day.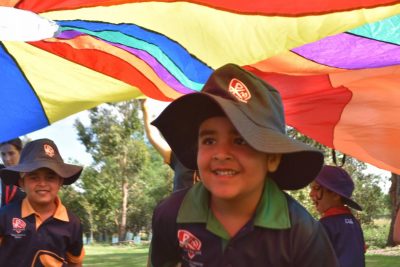 Thank you to the teachers and learning assistants for ensuring the activities ran smoothly. A huge thank you also to our Year 6 students who joined us on the day and who did an incredible job of organising and running the activities.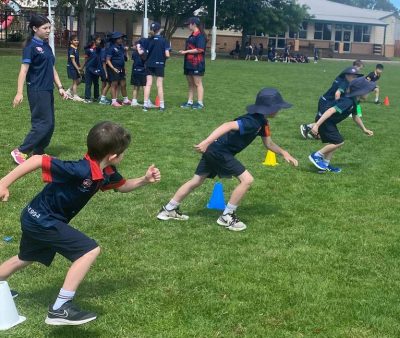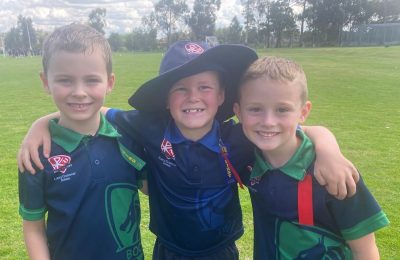 Jeff Batey, Junior School P.E and Sport
Belated Book Week
Book Week normally falls in August, but this year we decided to have a belated Book Week in November.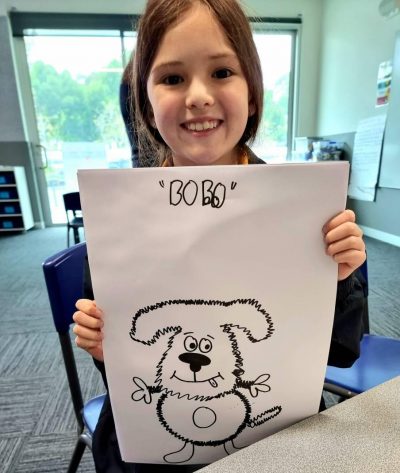 During a virtual incursion, Michael Salmon shared his story of how he became an author and illustrator with the students from Years 3 to 6. The highlight of the session was learning how he made cartoon drawing easy and a lot of fun.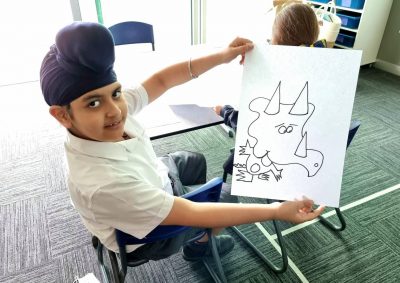 The following day the Preps to Year 2 students enjoyed their Book Week Virtual Incursion. A troupe of actors and writers put together a play based on three stories that the children read this term in Library classes. The actors brought the stories to life and the students enjoyed their performance.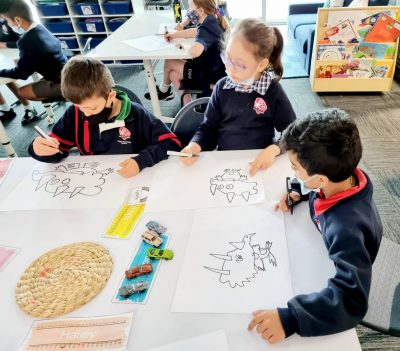 On Friday, 26 November students from all year levels in the Primary School came dressed as their favourite book characters. Wally was everywhere and you couldn't walk around a corner without Harry Potter casting a spell.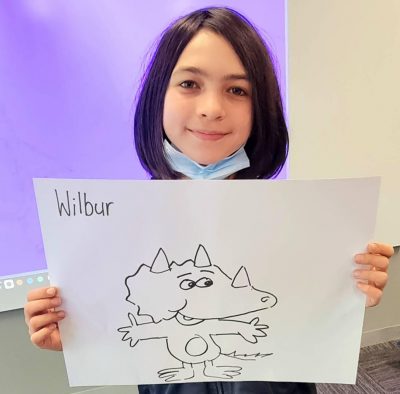 Of course, there were also many action heroes so the school was in safe hands…or was it? I did notice a lot of wicked-looking witches cackling and stirring the pot! Not to be outdone, there was also a range of beautiful princesses all vying to be the fairest of them all!
It was great to finally have all the students together in the Performing Art Centre to share in this fun day and to celebrate Book Week for 2021.
Mal Dunkley, Junior Library Teacher
Reid House News
Winning so many events and the 2021 House Pride Cup ensured 2021 was a brilliant year for Reid House. Years 3-6 students raised an extraordinary $1,400 for dog rescue and adoption charity, Sweet Shepherd Rescue Australia, through their coin trail fundraiser and, during remote learning, we enjoyed several Reid House meetings where we played games, held competitions and bonded as a team.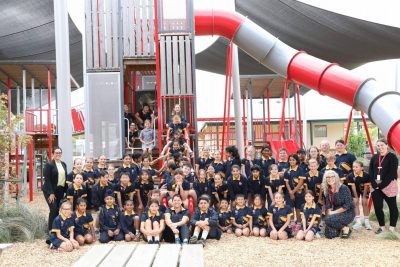 Reid finished the school year off strong by winning the third of the Year 3 - 6 competitions at the swimming carnival last week.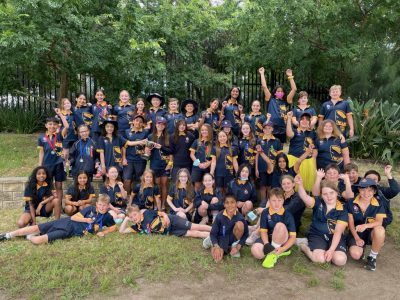 I would like to thank all our Junior School Reid House staff, Reid House Captains, students and families for their support over the past three years. My time as Junior School Head of Reid House has been magnificent and I'm so proud of the team we have developed.
I wish the most successful 2022 to our new Reid House Captains, Jeremy El Darazi and Chrissy Mavroudis, and to new Reid House Coordinator, Miss Maria Ramos.
Laura Dascoli, JS Head of Reid House
House Captains Report
We are very proud to have been Reid House Captains this year and we hope the next captains will enjoy the role, too. The Athletics Carnival and Cross Country were amazing and it felt so good when Reid won. We are also proud of winning the 2021 House Pride Cup.
Thank you for having us as your captains and we look forward to continuing to represent Reid House in the Senior School next year.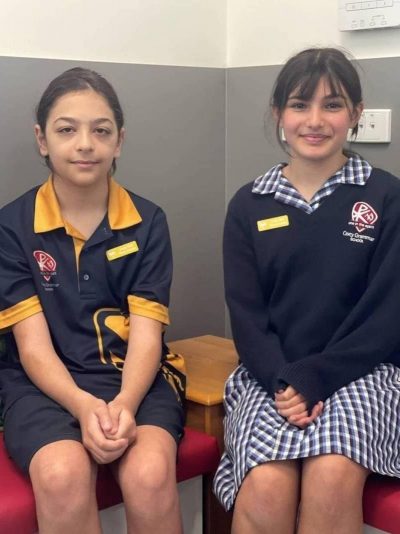 Gavin Deol and Alysia Sumanada, 2021 Junior School Reid House Captains
Booth House News
As the year comes to a close, who would have thought we were going to experience further restrictions? Booth students have made me feel so proud in the way they have demonstrated resilience, patience, determination and an ability to roll with the punches!
While 2021 has certainly not gone to plan, the Booth students still had plenty of fun. Our online meetings included plenty of games, such as scavenger hunts, trivia, Kahoot! sessions, 2 Truths/1 Lie, Scattergories and, of course, the Captains leading our first Emoji Quiz!
We had a few competitions this year but the highlight was certainly our Booth Christmas Bag Competition. Congratulations to Jovita of Year 3 for winning our final 2021 competition!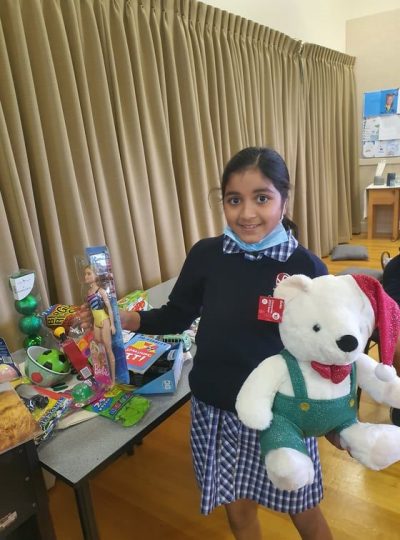 I would like to thank our 2021 Captains, Ella and Harrison, for their amazing work.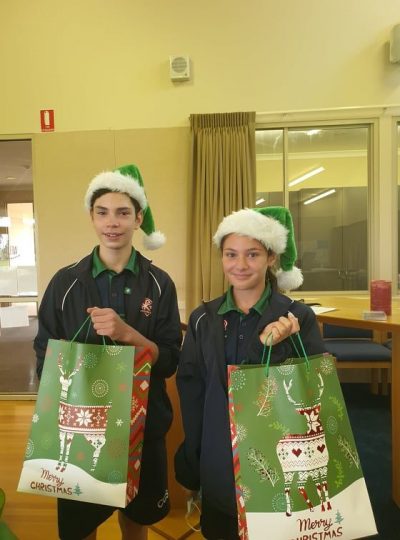 This is an excellent opportunity to welcome the new House Captains, Oliver van de Brink and Johanna Jobin. I am sure they will enjoy leading Booth House in 2022!
I hope all Booth families have a wonderful relaxing break and can finally enjoy a holiday and time spent with families and friends. Best wishes for the festive season.
Sarah Nolan, Head of Booth House

Trist House News
Wow, what a year it has been. It was fabulous to still be able to meet online as a House and to enjoy fun and games together. Some of the highlights of our meetings this term include: Secret Sound, Kahoot! Emoji Quiz, Scavenger Hunt and sharing jokes.
Of course, we can't forget the 'Guess the Lollies in the Jar' competition either. Well done to Ziva and Jacob Mackley who both guessed the same closest number.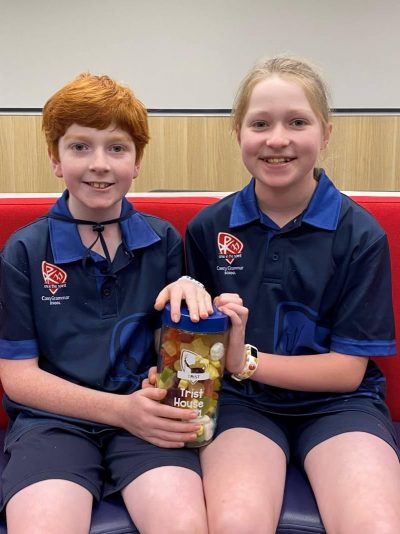 An extra special big thank you and congratulations to our 2021 Trist House Captains, Joanne Cherian and Zac Foster. Well done on a fabulous year. You carried yourselves with integrity and were exceptional House leaders demonstrating the Trist House values of talent, teamwork and trust.
I am looking forward to working with our 2022 Trist House Captains, Irushi Ranasinghe Arachchige and Mason Durand.
Thank you to the Year 6 students and I wish you well on their journey to Secondary School. I hope you continue to show your Trist House spirit. I would like to thank all of you for a fabulous year and I look forward to working with you again in 2022.
Amy Mepstead, Year 6 Teacher and Head of Trist House
Leaver House News
Well, we finally got to have a Leaver House meeting on campus and boy was it worth the wait! We had birthday celebrations, tableau challenges and farewell presentations to our incredible House Captains for 2021, Finley Harding and Cameron Carr. There was also a special goodbye gift for all my fabulous Legends that make up Leaver!
Thank you for all your support throughout what has been a very challenging year. I am looking forward to creating many more fun memories with you all in 2022.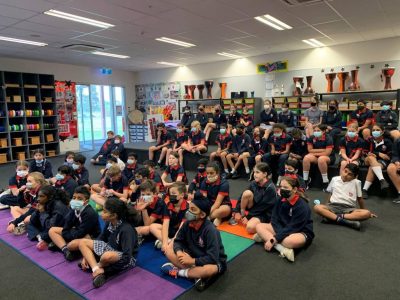 Special congratulations to our 2022 Leaver Captains, Skyla De Silva and Marco Lamattina.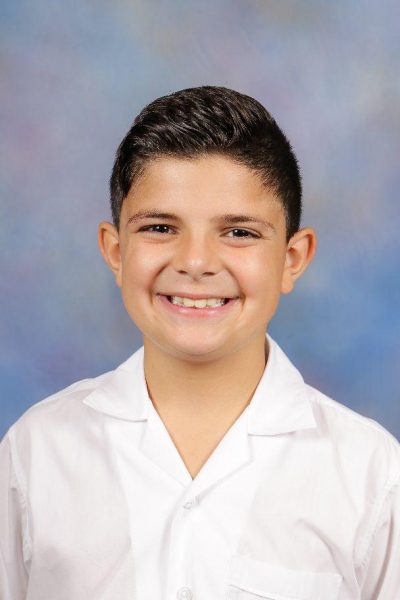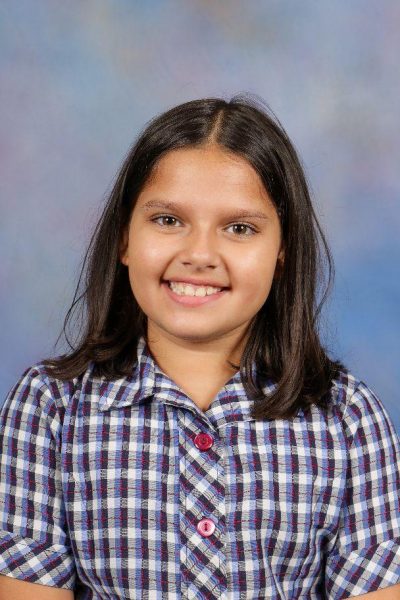 Bronwyn Kyne, JS Head of Leaver House