Navigating National Reconciliation Week During Lockdown
Unfortunately, we weren't able to have our National Reconciliation Week celebrations in the way we intended, but we were able to squeeze in one incursion before the lockdown.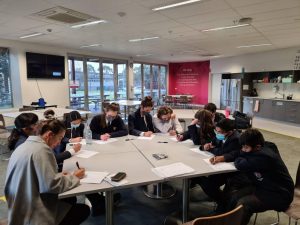 Here, our Social Justice and Community Captain, Ellen Streat, reflects on the experience:
"Myself and a handful of other students from Year 7 to 12 were so incredibly lucky to take part in an incursion for National Reconciliation Week before the snap lockdown! It truly was great timing!
The theme this year was 'More than a word. Reconciliation takes action' so we started off with a movie called 'Looky Looky Here Comes Cooky', presented by Steven Oliver who is a comedian and descendant of the Kuku Yalanji, Waanyi, Gangalidda, Woppaburra, Bundjalung and Biripi peoples.
Whilst the movie is less than an hour long, it was very informative and featured many different Indigenous singers and songwriters. We then talked through what we had watched and the issues the movie raised by showing us the Indigenous story from a purely Indigenous perspective. It was so nice to have these meaningful conversations and to hear different perspectives from the Year 7s to the Year 12s and the teachers.
Next came the online seminar Moving Beyond Words, hosted by Bridge Darebin. It tackled many of the ongoing issues evident in today's society and the panel of speakers were three Indigenous leaders and a non-Indigenous Australian.
As a small group with no First Nations people with us, it was very inspiring to see researcher Clare Land on the screen and to hear her talk about her experiences of working alongside Indigenous Australians.
Personally, I enjoyed hearing about the campaigns occurring right now in the Indigenous community, such as the Free the Flag Campaign, and learning what I can do, as a non-Indigenous person, to support Indigenous Australians in their ongoing journeys and future campaigns.
Every one of us had a wonderful time and I'd like to thank the teachers —Mrs Riviere-Pendle, Mrs Moya, Ms Delgos and Madame Morgan— for all their efforts to ensure the event went smoothly!" - Ellen Streat, Social Justice and Community Captain
An Opportunity to Reflect
National Reconciliation Week offers a wonderful opportunity to stop and focus on where we are as a nation and to prompt us to consider our nation's history and future.
While working remotely, Year 7 students completed a mindfulness activity to mark Reconciliation Week. During this activity, Year 7 student Bella, produced this beautiful mindfulness artwork piece.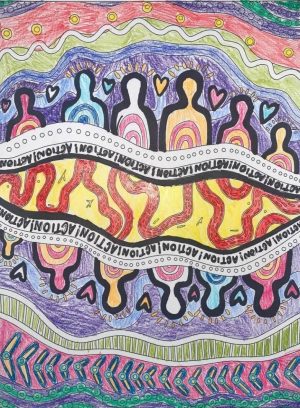 It is also a chance to further educate ourselves and to explore the fantastic resources available.
Consider checking these interesting links:
SBS On Demand Reconciliation Week - this includes access to some fantastic documentaries and movies.

Feast for Freedom
On Thursday 24 June from 5 pm to 7 pm we intend holding a dinner for Refugee Week. The recipes have been provided by refugees. We are hoping to have a parent or carer cooking with their child and then sharing a meal together.
Spots at the dinner are capped at 15 students and we hope to hear from a refugee from the Asylum Seeker Resource Centre. The cost for a student / parent or carer is $20. If we are unable to have parents/ carers, the cost will be $15 for the student only with a small take home pack. All donations will support the work of the Asylum Seeker Resource Centre.
If you have any questions, please contact m.riviere-pendle@caseygrammar.vic.edu.au
Our families continue to be in my thoughts and prayers as we all grapple with another lockdown experience.
Monique Riviere-Pendle
Chaplain