Jeans for Genes Day
Next Friday, 7 August, we look forward to having an on campus Jeans for Genes Day with our VCE/ Pathways students as well as our on-campus Prep-10 students. Students are invited to participate by bringing a gold coin donation and dressing in jeans. This raises valuable money for the work of the Children's Medical Research Institute who seek to find treatments and preventions for genetic disease. Further information about their work can be found at: https://www.cmri.org.au/ Students who are learning remotely may also wish to participate by wearing jeans next Friday as well.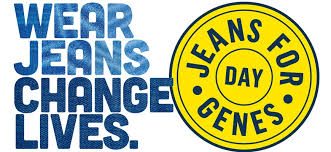 Encouraging Mindfulness
One way of coping with the challenges we are facing is by building moments of mindfulness into the day. There are many different ways to do this. However, it is important to note that mindfulness doesn't mean we ignore the potentially negative feelings we may be experiencing. Anxiety and feelings of sadness or uncertainty are natural in this time. Mindfulness is partly about acknowledging these feelings and allowing yourself to feel them without judgment. However, another element of mindfulness is helping us to focus, and notice that which might pass us by normally. A simple task, like looking in the garden to find something that you wouldn't normally consider, can allow us to observe closely that which is around us. When deliberately focusing on a task, it can assist us to give our minds a break from the worries and anxieties that can be prevalent at this time.
A Prayer for our Aged Care Homes
Many of us have loved ones who are in Aged Care homes where there are significant challenges faced by staff and residents dealing with the spread of the virus. You may wish to join with me in praying for the many homes impacted.
Dear Lord,
We take this time to pray for each other, and for those in our community. As a school, we know how communities can both come together, but also experience challenges when the circumstances push us beyond what is 'normal'. We commit to you another group for whom this is also true. The situation currently in Aged Care needs our prayer. We know there are many students and staff who have loved ones in homes where they cannot visit. We know that there are many places where disease is spreading. So, we come, asking for wisdom for people in each Aged Care home in the decisions, protocols and procedures they implement. Please help those making such choices to have a clear mind, so that they might lead their communities well. We commit the staff and residents to you, praying that the interventions might slow the current situation. May residents not feel isolated or alone, but be aware of the thoughts and prayers of those who care.
Amen
Every blessing to you and your families in the week ahead.
Mrs Monique Riviere-Pendle
Chaplain