Showing Strength and Resilience
It has been an incredibly difficult and sad fortnight for our Casey Grammar community as, in our own ways, we have all been dealing with Annalise Roy's passing.
Our students have shown great strength and resilience as they shared memories of times spent with Annalise. Our families, while dealing with their own grief, have supported their children admirably. Our staff have been nothing short of amazing while they too are dealing with their grief—they have also managed to support their students remotely, which has not been an easy feat.
Miss Sarah Nolan, teacher of 4N and Annalise's teacher, and Mr Shane Bell, teacher of 4B, showed great compassion when comforting and supporting their students who were those closest to Annalise. The way our CGS community has come together, under the worst of circumstances, has been truly remarkable. 
Sincerest thanks must go to Mrs Monique Riviere-Pendle for the heartfelt Memorial Service that she organised for our community. It was indeed a fitting tribute to our cherished student, Annalise. My hope is that it will provide the Roy family with some comfort during this most challenging time.  
It is my hope that everyone can use the upcoming break to spend quality time together as a family, away from screens, and that we will all gather again onsite next term. 
Melissa Roberton 
Head of Junior School 
Magic Show Reflections
On Thursday morning lots of excited Year 2 students logged into their Zoom incursion. It was a fabulous magic show presented by Professor Buckets and Marcel the Monkey. Below are some reflections from our students....
'I loved it when Professor Buckets pulled a long, colourful paper from his mouth' — Toby
'If I met professor Buckets I would ask him if he could make a volcano' — Avani
'My favourite part of the show was the card trick' — Bryce
'If I met Professor Buckets I would ask him to teach me magic' — Emily
'If I met Professor Buckets I would ask him, "Can you juggle on a tricycle?' — Snaver
'My favourite part was when he pulled Marcel's tail off and he cried' — Harrison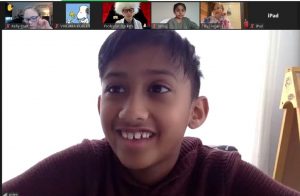 'My favourite part was when Professor Buckets put his glasses on the wrong way and we had to keep saying it until he got it right' — Yoshara
Virginia Duell
Year 2 Teacher
Celebrating Father's Day in Prep
Last week our Prep students were busy preparing special cards and letters for their fathers and special people to celebrate Father's Day.
Here's a video of their work: https://video.link/w/jE67c
Holly Waugh
Primary Teacher
Year 3 Enjoy Their Incursions
The students in Year 3 enjoyed a fun-filled week with three different virtual incursions. On Tuesday, we joined cartoonist, Brett Cardwell from Cardytoons, for a morning of fun and sketching. The students created some amazing works of art!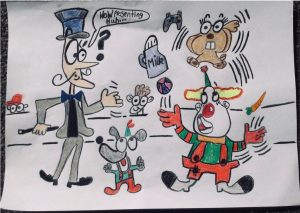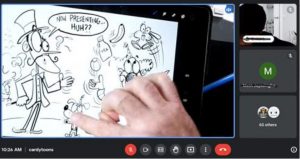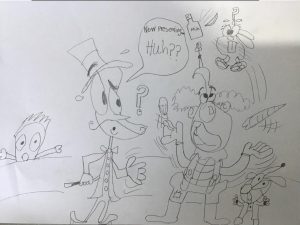 We celebrated Indigenous Literacy Day on Wednesday by connecting with an online event presented by The Indigenous Literacy Foundation where the students joined in with celebrating Indigenous stories and language.
Finally, the Year 3 students enjoyed a virtual getaway to the Great Barrier Reef as part of our Geography Inquiry. The children explored content filmed in Townsville's Reef HQ Aquarium which was shared by the Great Barrier Reef Marine Authority.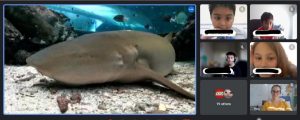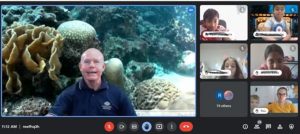 They learned about the different animals and plant life that call the reef home and had a chance to take a sneak peek inside the Reef HQ turtle hospital.
Rachel Harrison, Kylie Ingle and Emily Driessen
Year 3 Teachers
Year 6 Kids Teaching Kids
The Year 6 students decided to try something different during Remote Learning and took over the virtual classroom for an activity called: Kids Teaching Kids. Students worked in groups to plan activities for a day and then taught them to the class. This not only engaged the students but promoted collaboration and speaking and listening skills.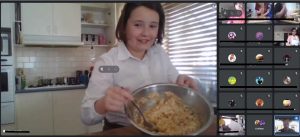 Below are some student reflections...
'I really liked doing Kids Teaching Kids, it was fun to have different people teaching and doing different activities' — Alexia 6M
'It was a really good experience being the teacher for the day. You get to know what it's like being a teacher. I'm glad it is only for one day' — Sehaj 6M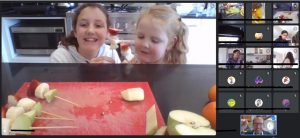 'It was an awesome opportunity to try new things, to have responsibility, work well as a team and cooperate and use everyone's unique ideas. It was really fun!' — Finley 6M
'I found it fun to be the teacher for a day, Now I know how much work our teachers have to do every day!' — Sophie 6N
'I loved how fun the teachers made learning during these difficult times, this was one of their best ideas by far. So much fun and excitement, best teachers ever!' — Elora 6N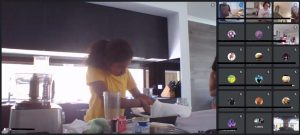 'I found being a teacher for the day really fun! I enjoyed cooking with the class and having a fun day in remote learning. It was an amazing experience. Thank you Mr Newham and Ms Mepstead for doing this for us!' — Alice 6N

'Being a teacher for a day is an amazing experience. It also shows how hard you need to work and the amount you need to prepare for just one day! I am grateful for the experience and am grateful for the teachers!' — Esha 6N

'Kids teaching kids has been a humbling experience. To get to know what your teacher goes through every day. Trying to find fun and exciting things to do based on each subject has given me a new perspective of what the teachers do for us' — Zac 6M

'I thoroughly enjoyed being involved in Kids Teaching Kids. At first I was a bit baffled but as we got more and more prepared that faded away. I would love to teach kids again in the near future' — Cameron 6M
'It was a fun time and I would want to do it again. I was very nervous because I am not socially confident but it was still awesome' — Damon 6N
Mr Greg Newham and Ms Amy Mepstead
Year 6 Teachers