Time flies when you're having fun!
Reaching the halfway point through Term 2, we are reminded of the fact that time flies. I prefer to think of the saying 'The bad news is time flies. The good news is you're the pilot.' With so many opportunities to participate in co-curricular activities at the School, it would be sad to look back on your year and regret not having been involved. Whether it be joining the debating club or having a go at public speaking, playing in a band, a sporting team or signing up for House events, having a voice in Student Leadership or contributing to the initiatives of the Social Justice Group, this involvement puts you as the 'pilot' in this vast range of opportunities.
Behind the Scenes
In our Week 5 Assembly, the focus was on both students and staff with a 'behind the scenes' look at recent happenings beyond the classroom walls. A sneak peek at a routine from High School Musical has kicked off ticket sales for the School Production in June. We also learnt the way in which teachers have become an AFL family, an award-winning playwright, a W-League grand final referee and a published author.
Subject Selection Fair
We are incredibly disappointed to inform you that the Subject Selection Fair scheduled on 1 June has been cancelled. We will record the information sessions and send them home to parents.
We will keep you updated on this.
Exam Timetables
Just as NAPLAN testing for Year 7 and Year 9 students comes to an end, mid-year exam timetables have been released to families. The chance to sit formal examinations is valuable not only as a form of summative assessment, but also as an opportunity to revise content, prepare students for the reality of the VCE, receive feedback from teachers, and reflect upon examination techniques across a range of subjects.
Kate Morgan
Head of Senior School
Year 10 Music tells Nothing but the Truth 
On Wednesday 12 May, the Year 10 Drama class took to the stage with their production of Nothing but the Truth. The class rehearsed busily throughout Term 1 and early Term 2, learning lines and directing scenes. Students took on an acting role in the production and also managed sets, props, costumes and lighting. 
They all worked incredibly hard and delivered stellar performances – individually and as an ensemble. 
Natalie Burns 
Head of Drama/Secondary Drama and Media Teacher 
SIS Public Speaking at John Paul College
On Tuesday 4 May, Year 10 students, Nathan Kovac and Noku Kwenda, participated in the SIS Public Speaking Competition. Noku's reflections on the event were:
"The competition took place at John Paul College in Frankston, with a range of schools in the Southern Region participating. Every Friday at school, over several weeks, we met up with Ms Harris to practice Public Speaking to prepare for the event.
The prepared topics presented were: 'Parents should financially reward their children for improving personal school results' and 'That sports' drug cheats should receive a lifetime ban.' Nathan had to speak to the Sports topic and I addressed the Parents rewarding students' topic.
The prepared speeches lasted 3-4 minutes, which is quite a lengthy time to speak. We also had to present impromptu speeches that went for 2-3 minutes and for which we only had 5 minutes preparation time - so that was pretty tricky.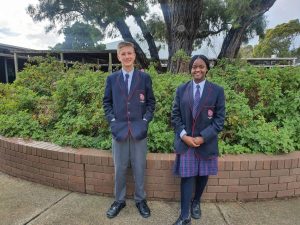 The competition was difficult but with our constant practice, hard work and determination and with the prepared and impromptu speeches presented, we both did exceptionally well. Although we didn't come first, we had a wonderful experience. We felt very confident and realised how our practice had paid off. We are sure to participate again next year!"
Noku Kwenda, Year 10
High School Musical - Production Announcement
Due to the recent government announcement regarding new COVID-19 restrictions, we are incredibly disappointed to inform you that next week's performances of High School Musical have been cancelled.
We will organise refunds of tickets purchased for the shows next week. We are looking at various options for presenting the show to you in the future either through a recording or through postponed performances.

OUTLET Free Basketball Program
OUTLET provides young people the opportunity to enjoy basketball in a no-pressure environment. Top-level coaching is available to work on your skills, or you can just enjoy some fun, basketball-themed games - the program is open to anyone, regardless of skill level.
Who: Anyone aged 14 – 17-years-old
When: Friday at 3.30 PM
Where: Casey Stadium
If playing isn't for you, there is also an opportunity to gain some coaching and refereeing experience that could lead to a paid coach or referee position.
Outlet also supports young people to better themselves off the court by offering sessions on topics such as leadership, employability, cultural identity and mental health that are delivered by partner organisations.
Download this flyer and use the QR code to register for the amazing FREE term 2 program and get your head start on the competition today!